5th Round Palagruza Cannonball:
Easter, as tough as tough comes.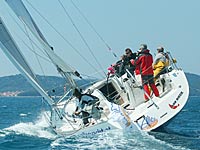 Among the roughly three or four dozen charter boat regattas drawing mostly Austrian and German sailors to the Croatian Coast every year, the Round Palagruza Cannonball stands out as the season´s toughest and most exciting event. On Easter Monday, the fifth edition of the race starts in Biograd.
The Cannonball´s 380 nautical miles track equals 700 kilometers, roughly the road distance Zagreb-Torino. It leads the fleet out to sea, around the Palagruza rock and back to Biograd again - nonstop, day and night and no matter what the weather dishes out. All competitors in the race´s two groups sail yachts of the same type, keeping up the excitement of close-combat match racing from start to finish. This is racing as tough as tough comes, yet some of the most serious and successful Cannonball competitors have been ladies, and this year, for the first time, an all-women crew enters the race.

"You might call it obsession, but we prefer to call it the Cannonball spirit", comments race mastermind Ronnie Zeiller. The Austrian leads his "Alles Yacht"-crew into the fifth Cannonball in a row: "Steering a yacht through dark night and icy rain, patching up torn sails in a force seven bora, wallowing around in a dead calm for hours on end – all this is part of the game, but as soon as you cross the finish line, all hardships are forgotten."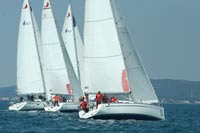 The race has a dedicated and not so small fan club:
This year, 210 competitors on 28 yachts join the event, a sizeable number of them for the fifth time. Predicting a winner is quite tough in a Cannonball, because more than once, six or seven yachts have, after three or four days of hand-to-hand combat, crossed the finish line only minutes from each other.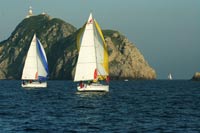 While racing without compromise, Cannonballers are extremely conscious about the environment: The Round Palagruza Cannonball was the first race event to cooperate with Living Ocean, a non-profit organization which provides the competing yachts with a full infrastructure for environementally-friendly waste management at sea. "You have to love the sea to be a real Cannonballer", comments Ronnie Zeiller. "And what you love, you will not bury in trash."
An equally important concern of the race organization is safety: It is covered by a series of preparatory safety and weather seminars, an accompanying safety team with diver and emergency physician, a safety-focused radio network and a transponder system which transmits every yacht´s position to an internet page. Safety measures have been fine tuned over the years and have proven adequate even in storm-ridden race editions like 2010, when in a fierce bora many boats dropped out of the race with technical problems, but all made port safe and sound. The Cannonball´s excellent safety record has long overcome the misgivings authorities initially held about the event.
The 5th Round Palagruza Cannonball starts on April 9th, 2012. The race is held by Yachtclub Biograd in cooperation with the Austrian Nautic Club Sail Attack. Supporting partners are Sea Help, Safety Team, Marina Kornati, and the charter companies Pitter and Adriatic Challenge. Daily race updates and live tracking are available under www.roundpalagruza.org.