With a slight delay the regatta started at 12.12 p.m. The start was at some point a little bit confusiing, with the participants trying to get into the best possible positions around the starting yacht with the referees on board. There were some nervous moments when some of the boats cruised towards other vehicles, only a few spare meters away. But finally all went well: One member of the race management dropped the starting flag, and off the boats went, towards the bouye, which had to be rounded. After this, most of the crews set their spinnakers – but had to take them in again quite soon, as the wind was gone. Later the breeze came back, making the first hours of the race quite a nice stretch.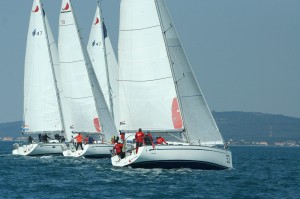 Strong starts were made by the "Southhampton" (nr. 65) of last year's winner Martin Hartl and his Celox Sailing Team, as well as by the Alles Yacht team of Ronnie Zeiller on the "San Diego" (nr. 63) and Alfred Hopfgartner and his Sailingmotion team on the Fastnet (nr. 55). Later on, the "New York" (nr. 60) of skipper Peter Stefaner and the Sägewerk team caught up with them.
The "Mojito" (nr. 40) had some bad luck: Lukas Plank-Bachselten and his crew started early and didn't round the buoye, probably because of some misunderstanding. The crew noticed their failure after a while and had to return to the referee yacht, before setting off again. The "Mojito" started finally at 12.42 p.m.

At the time of writing, the participants have already sailed trough the Zardarski Canal towards northwest. After surrounding the northern tips of the islands Ugljan and Dugi Otok they will pass the first mark, then the boats are on the open sea and will set sails towards south, along the west coast of Dugi Otok. And into the first hard regatta night.