CELOX Team offers RPC training!
Christian Kargl and Peter Steinkogler plan to do a special trainings course for RPC participants at Biograd. Date: 4th until 6th of april. Registration at office@celox-sailing.eu - more infos in the pdf here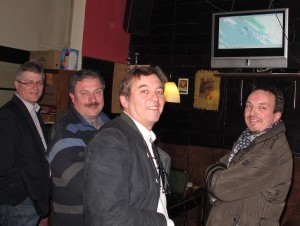 Nice evening at the yacht lottery in Viennas famous Phoenixhof. Late night analysis of the RPC 2012 tracking.
Some more news about the teams: RPC 2012 Women team anounced crew members. Helga Rannicher will be sailing with Albeta Helienek as Co. Now all teams complete exept for the titleholder..... Cascaruda Yacht Club changed boat with our Hungarian Totuola Team, now sailing on Bav 42match.