Here are the trophies for the RPC 2011!
Artwork by Stuntstorch, sponsert by PANTAENIUS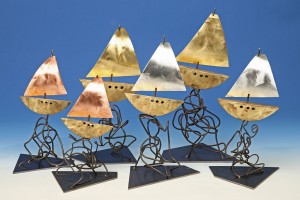 Since the first Cannonball Christoph "Stuntstoch" Noehrig creates this wonderfull sculptures.
Last year was the Palagruza-edition, this year it remebers on struggeling yachts in confusing sea.
You want to blog on the RPC Homepage?
Presenting your team or sponsor?
Upload cool images?
It´s very easy, just contact us and let´s get started!
Lust for sailing?
Few teams have room for sailors who have nothing else to do than eat bad food, lot of wind, day and night sailing, much wind, freezing etc.
Give it a try - it´s fun!!!
Michael Hackel from the El Sueno (companiing boat) is sponsering DWD grib-weather datas for all teams!
You will get them on Friday 15.4. until Thursday 21.4.
Thank you Michael!!