All participating teams have arrived in Biograd. On saturday afternoon, the 28 skippers of the contesting sailing yachts checked in at the small office at the marina, where they were welcomed by RPC organisator (and contest participant) Ronnie Zeiller (skipper of the "Alles Yacht" crew). Every team received RPC-shirts, and by 7 p.m. the registration was finished: All crews checked in, there are no "no-shows"!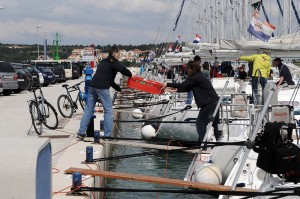 In the meantime, preparations are getting serious in the harbour. On saturday most of the teams were equipping and "tuning" their boats. Food and water were brought aboard, the roping was checked while divers cleaned the yachts under water. Some crews even went for short training rounds – though the weather wasn't ideal on saturday: A tough "Bora" blew with highlights up to 30 kns. and more. Many crews decided to stay in the marina and are hoping for better winds on sunday.
On monday the  Round Palagruža Cannonball 2011 starts. 28 teams, consisting of the best sailers of Austria and two German crews, will run for the best places in this regatta, which will take the boats on a 380 seamiles-journey. There are two classes: 10 Bavaria 47c vehicles and 18 Bavaria 42 are contesting for the trophy.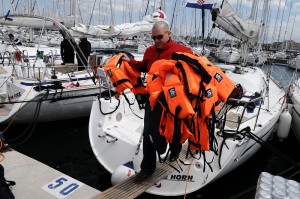 The hottest news, contest standings and all other information about  the 4th Round Palagruža Cannonball will be published in this blog. So it'll be worth it to tune in to RPC's website every once in a while – enjoy!