Since yesterday there is the Notice of Race for the RPC 2016 online.
Two new one design classes for the RPC 2016: ELAN 350 und SEASCAPE 27
translation to english coming soon....
Obwohl die Beliebtheit der Bavaria 42match ungebrochen ist und die Boote nach wie vor bestens gewartet werden, scheint sich ein Ende dieser Klasse abzuzeichnen. Adriatic Challenge verkauft sukzessive Boote dieser Klasse. Für das RPC 2016 konnten wir nur noch 10 Boote optionieren.
Zugegeben, die Bavaria 40s ist im Vergleich zur 42match weniger optimal, sie ist jedoch besser als ihr Ruf und bleibt, mit 20 verfügbaren Yachten, DIE sportliche Herausforderung beim RPC.
Und doch benötigen wir als Ablöse für die 42match eine neue Bootsklasse und so fiel unsere Wahl auf die ELAN 350.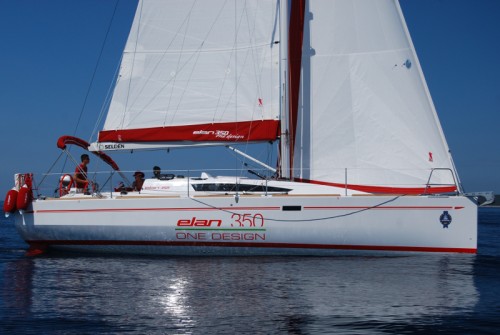 Die Stationierung der Flotte in Biograd und damit verbundene Vorteile, sowie der allgemeine Trend mit weniger Crewmitgliedern zu segeln (Im Schnitt fuhren 2015 6 Teilnehmer pro Boot mit, zu rund 7 Crewmitgliedern in früheren Jahren) waren dabei ebenso entscheidend.
Mit der ELAN 350 wollen wir auch dem Trend zum schnellen Gennaker-Segeln folgen.
Und so verspricht die ELAN 350 jedenfalls ein jollenartiges, fetziges Segelvergnügen für kleinere Crews zu werden! 🙂
Spannend wird es auf jeden Fall sein, wenn sich die ELAN 350 mit der ebenso neuen 2-Hand-Klasse SEASCAPE 27 messen wird.
Als Heinz Ressl bei uns anfragte, ob wir uns vorstellen können, das Round Palagruza Cannonball als Host für eine der vier SEASCAPE 27 Adria-Schwerpunkt-Regatten (neben dem 500/2, 200/2 und dem Jabuka) zur Verfügung zu stellen, waren wir sofort begeistert!
Das Round Palagruza Cannonball ist ja nicht nur bekannt dafür Trendsetter zu sein, sondern auch die besten Offshore Segler Österreichs um sich zu sammeln und so ehrt uns die Teilnahme einer international besetzten SEASCAPE 27 Flotte um so mehr.