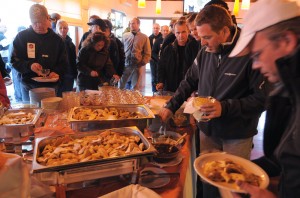 After a day of rough training and final preparations for the competition the whole RPC 2011 community gathered sunday evening at the restaurant "Marina Kornati" for a substantial meal of Austrian "Kaiserschmarr'n".
At 7 p.m. the Round Palagruza Cannonball 2011 was heralded officially by the Organizer. Ronnie Zeiller welcomed all the approx. 200 participants, and of course he thanked all persons and sponsors, without whom the regatta wouldn't be possible. And RPC veteran Mike Lynn gave the teams a review of the history of the race.
After dinner, most crews left for their boats and their berths quite early, to get a last full night of sleep before the competition starts on monday at noon. We wish "fair winds" to all 28 teams of the Round Palagruza Cannonball 2011!