14. Round Palagruža Cannonball 2022
Internationale Segelregatta
9.4. BIS 16.4.2022
14. Round Palagruža Cannonball 2022
International Sailing Regatta
09/04/2022 until 16/04/2022
Die Spirit of Palagruža Trophy
Diese neue Trophäe, gestiftet von Martin Hartl, dem Gewinner der letzten drei Round Palagruza Cannonball Races, ist ein Wanderpreis welcher an das "first ship home" beim Round Palagruza Cannonball Race vergeben wird. Gewinnt ein Skipper die Trophäe dreimal in Folge geht die Trophäe in den Besitz des 3-maligen Gewinners über.
Der neue Wanderpreis ist eine Massivstahlskulptur des Metallbildhauers Mario Werndl.
Die Plastik stellt die Insel Palagruza im Maßstab 1: 2000 dar, und wurde aus einem massiven 500Kg Stahlklotz per Hand mittels Autogenschneidbrenner herausgearbeitet.
Eine Namensänderung der Veranstaltung durch einen künftigen Veranstalter ändert nichts am Austragungsmodus.
Eine Streckenänderung durch einen künftigen Veranstalter ändert nichts am Austragungsmodus, sofern sie nicht den Veranstaltungscharakter als anspruchsvolle nautische Mittelstreckenregatta in kroatischen Gewässern tief greifend verändert. Für diesen Fall behält sich der Stifter eine Verfügung über einen anderen Austragungsmodus vor.
Sollte über drei Jahre hinweg keine dem Spirit des Round Palagruza Cannonball Race entsprechende Regatta gesegelt werden, geht die Spirit of Palagruza Trophy ins Eigentum des letzten Gewinners über.
Dimensionen der "Spirit of Palagruza Trophy":
Gewicht: 76,42Kg
Maße: 500 x 200 x 170mm
Künstlerische Idee:
Als Werkstoff wurde Stahl gewählt um eine monumentalen Eindruck und eine Energie auszudrücken, welche den Naturgewalten auf hoher See gerecht wird.
Anstelle eines Sockel wurde der Stahlwerkstoff selbst in dreifacher Höhe ausgeführt um den felsigen kroatischen Inseleindruck hervorzuheben. Der Leuchtturm wurde abstrahiert mittels eines Bergkristalls stilisiert.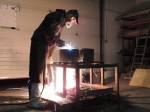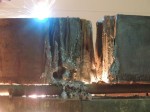 Technische Umsetzung:
Rohmaterial: 465,11 Kg Baustahl
Brennschneidgase: 30 000Liter verdichteter Sauerstoff,
2 000Liter Acetylengas.
Mittels Autogen Handbrenner, Schrottschneiddüse 300mm, Schnittbreite 20mm, Gasverbrauch 10 000Liter Sauerstoff in 15 Minuten.
Transport und Handling:
Da diese Skulptur 80Kg wiegt ist besondere Vorsicht beim Transportieren und Manipulieren geboten.
Manuelles Tragen:
Bitte nur zu zweit in der dafür extra gebauten Transportkiste bewegen.
Die Gefahr einer schweren Verletzung ist bei unvorsichtigem Umgang sehr hoch.
Die Stellfläche (Aufstellungsort) muss stabil und ausreichend tragfähig sein.
Schutzausrüstung:
Schutzschuhe sind zu empfehlen. Falls die Skulptur von einem Tisch herunterfällt, kommt sie mit ca. 750Kg am Boden auf!
Transport mittels PKW oder LKW: Nur mit Spanngurten verspannt und gegen jegliches Verrutschen gesichert.
Unsachgemäßer Transport ist lebensgefährlich und wird nicht umsonst mit hohen Strafen geahndet.
Falls Sie Unterstützung brauchen oder Fragen haben kontaktieren Sie:
www.mario-werndl.com
oder


Die bisherigen Preisträger der "Spirit of Palagruza Trophy":
RPC 2013: Christian Pfann (IGS) – Stumberger Wolfgang (ÖSV) / sail4one-racing / 83:12:40
RPC 2014: Raimund Reissner (IGS) - Wolfgang Singer (ÖSV) / 75:46:50
RPC 2015: Peter Stefaner (NSA) - Michael Thomann (Forelle Steyr) / perfect living / 51:51:58
RPC 2016: Christian Fuczik (IG-Segeln) - Ute Wagner (SCTWV) / Team Lost Boys / 80:45
RPC 2017: Alexandra Lammel (DHH) - Dusan Usenicnik / 74:07:28
RPC 2018: Günter Hösele (SYCS) - Piet Van der Kallen (SYCS) / 79:31:34
RPC2019: Christian Fuczik (S4o) - Lukas Rittler (UYCAS) / Team Lost Boys /  71:57:30
RPC2020: entfallen
RPC2021: Claus Chabina (KYC) - Gerald Gaugusch (KYC) / Plan B / 76:05:16