Trek ´n Eat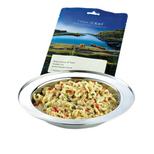 Where are Trek'n Eat products used?
Freeze-dried foods are used around the world by expeditions, sailing voyages and outdoor activities. The most important advantages are
* Weight-savings
* Simple preparation
* Fuel-savings
* Protective packaging
* Long shelf-life
* Great taste
Information and product selection: www.trekneat.com
Tested and recommanded by Volvo Ocean Race Skipper Andreas Hanakamp.
Segelwelt offers -20% special conditions to all RPC participants.